Gates for electric fences
A gate is the point where you enter and exit your fence. Gates come in different forms and sizes and have to match your specific fence. It is important that a gate closes the fence correctly and the power is able to run through the entire fence. To create a gate where there is no voltage on the gate itself, it is imperative that you use a ground cable (dug in below the gate) to ensure the current can travel on beyond the gate. You place the cable below the gate and connect the cable to both sides of the gate to your fence. This way, your gate will be accessible for both human and animal and your entire fence will remain powered.
What are gates?
(Meadow) gates, also known as land fences, are of course essential in a complete fence. A meadow gate serves as an entrance to your piece of land and it ensures safe access.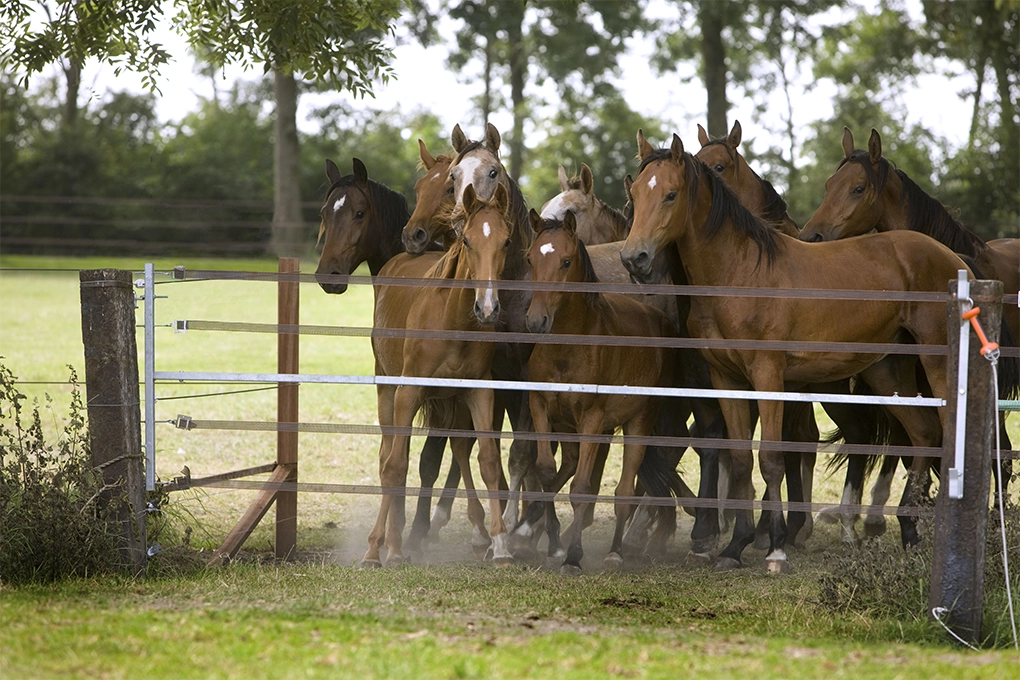 Electric fence: Highly effective, maintenance-free and adjustable electric fence. Guaranteed long service life. Suitable for all your permanent electric fences. Supplied without galvanised wires. You can also tension tape into the fence as required. Size: 2.5m wide x 1m high, extendable to max. 4.5m.
Drive-through fence: A complete fence, easy to carry and hang in places where you often have to drive through a fence. So a ready-made passage for a permanent fence! The tractor pushes the fence, which is under voltage, open by itself and the fence closes automatically.
Multi strand gate kit: The most complete and easy-to-install multi strand gate kit from tape. A cost-effective solution for almost any passage width.
Elastic rope: Strong elastic rope for semi-permanent horse and cow fencing. Also suitable for making passages. Can be stretched to 2x own length. With UV protection for long life. Highly visible.
Elastic cord passage set: Complete set to quickly and easily make a passage in a cord fence with conductive elastic cord.

Retractable auto reel set: With the retractable auto reel set, you can quickly and easily create a passage in your fence. The 40 mm TurboLine tape is automatically unrolled and coiled over a maximum length of 15 metres. The tape is easy to pull out and hook into a gate handle anchor using the gate handle supplied. The retractable auto reel comes with a mounting bracket for mounting on a wooden post.
Spring gate valve: Set for quickly and easily making a passage in the fence. You simply attach the spring to the gate handle and hook it into the supplied gate handle anchor
Batt-Latch automatic gate opener timer: The Batt-Latch is an automatic gate opener, supplied with a spring-loaded gate valve. The system allows the spring-loaded gate opener to automatically open the gate at pre-programmed times. This system is extremely suitable for dairy farmers, for example, who want to have control over grazing without having to open the gate themselves. The batt-latch runs on batteries in combination with a solar panel, which makes the battery last longer.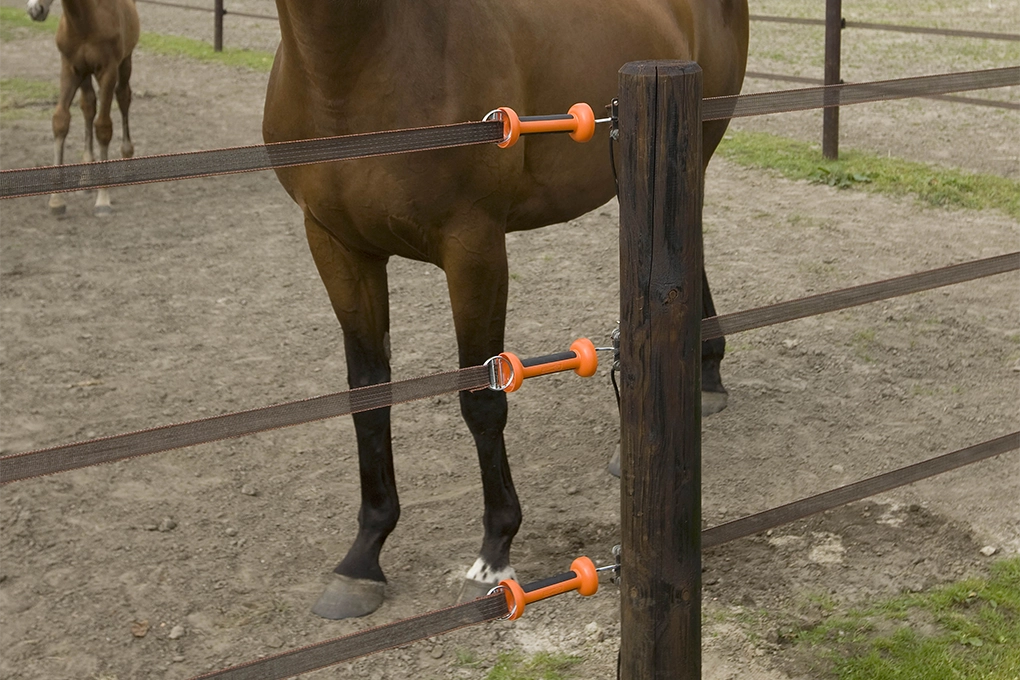 Dimensions of meadow gates
Gallagher meadow gates come in different sizes. The length can vary between 2.5m and 18.5m.
Electric fence: Size: 2.5m wide x 1m high, extendable to max. 4.5m.

Drive-through gate: The drive-through gates come in 2 different sizes: 3.7 metres wide and 5 metres wide.

Multi strand gate kit: The multi strand gate kit comes in three different sizes: 2 conductors 12.5mm 8 metres, 4 conductors 12.5mm 6 metres and 4 conductors 40mm 6 metres.

Retractable auto reel: The 40mm TurboLine tape is automatically unrolled and coiled and are available over a maximum length of 15 metres and 18.5 metres.

Elastic cord: Gallagher's elastic rope is available in a 50-metre roll.

Passage set elastic cord: The passage set elastic cord is available in two different sizes: 3 - 6 metres and 6.5 - 11 metres

Spring gate valve: These are only available for a maximum passage length of 5 metres

When choosing your gate, please keep in mind the below:
1. Type of animal
Every animal needs a different type of fence, so when choosing a gate it is important to keep this in mind. For horses, we recommend a gate which is highly visible with multiple strands: for example the multi strand gate kit or the retractable auto reel with 15 meters of tape. For cattle, we would suggest a more basic gate with 1 or multiple strands (dependent on type of animal), such as the spring gate or a gate with elastic rope.
2. The type of conductor you are using in your fence
We have different types of gates in our assortment with different types of conductors. Esthetically it would look the best when you choose a gate with the same conductor as your fence. If you have a tape fence, then choose the multi strand gate kit or the retractable auto reel with tape. If you use cord/rope in your fence, then you could use the retractable autoreel with cord or one of the rope gate sets.

3. The type of fencing, permanent or mobile
For a permanent fence, you can use all gate kits that we have available. Additionally you can also use a standard gate or the electrified steel gate. The latter is a very safe and nice looking solution, which can be used with the conductor of your choice, so it will match the rest of the fence. For mobile fences you are better off choosing a spring gate or a rope gate set.