Electric fencing for sheep
Unlike many other animals, sheep can be outdoors almost all year round. This is one of the reasons why a safe sheep fence is very important.

It is important to set clear boundaries with a good sheep fence. The wool insulates and makes sheep more insensitive to electricity compared to other animals. Therefore, make sure you have a good fence so that your sheep can't escape.

Sheep are constantly on the move. If your sheep do not always graze in the same place, you can choose movable fencing. The two most common solutions for this are SmartFence and sheep netting.
What is electric fencing for sheep?
An electric fence is a barrier used to keep your animals safe and unwanted animals out of gardens and other landscapes you want to protect. Having an electric fence comes with many advantages. Electric fencing takes less time, effort and cost than traditional, non-electric fencing. Electric fencing is also ideal for grazing or pasture management as it contains animals on a selected area of pasture or crop. Check all the benefits of electric fencing.


Advantages of sheep fencing
There are numerous advantages to having electric fencing for sheep. Electric fencing delivers a short, safe and memorable shock to create a psychological as well as a physical barrier. Animals remember and develop a respect for the fence, which also means less animal hide and pelt damage. This makes electric fencing safe for your animals and very reliable as well.

Electric fencing is also cheaper than wooden fencing, it lasts a lot longer than a traditional fence and stays in good condition. Besides that, electric fencing is quick and easy to build and to take down.


Types of fences for sheep
For sheep, Gallagher offers several sustainable and safe fences. A distinction is made between permanent and mobile fencing. You can also electrify an existing fence using distance insulators.


Permanent / High tensile fencing for sheep
A good current conductor, such as High Tensile wire, combined with a powerful Gallagher fence energiser, offers you the security you want. The bottom wire of a sheep fence is close to the ground, which means that growing vegetation is quite likely to touch the wire. That's why you need a powerful Gallagher fence energiser, as it will singe the grass once it is touched. As a result, there'll be plenty of power on your fence. A High Tensile fence, combined with a Gallagher fence energiser, forms the perfect barrier for keeping sheep safely and securely in a field. It will work well for many years to come.

The unique permanent Insultimber fence for sheep has offered an unrivaled solution for more than 40 years.
Installing a high tensile sheep fence
Below you will find the products you need to set up a high-quality permanent sheep fence. With the compose your fencing module it is easy to calculate the complete fencing requirements for your animals.
Insultimber corner post (017898)
Gallagher fence energiser
Insultimber intermdiate post (007601)
Insultimber batting (007618)
Aluminised wire (039999)

Clips short (011056)

Clips long (101063)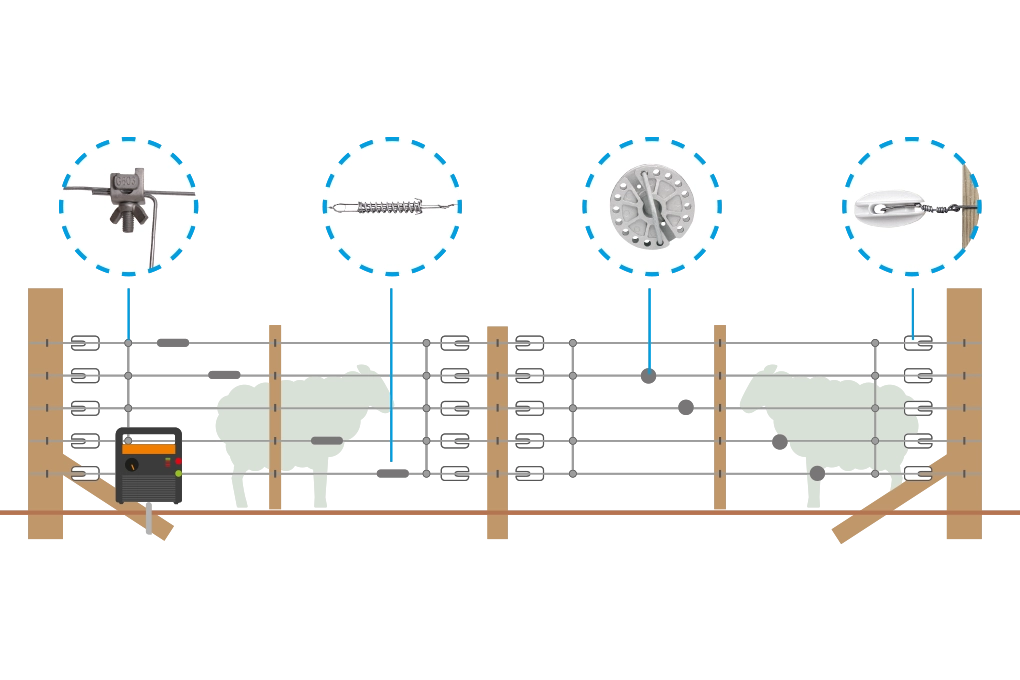 Order your permanent sheep fencing products here:
Mobile fencing for sheep
Sheep are often housed on different areas of pasture during the year. Nets offer a solution here because they can be used anywhere and are easy to set up. With Gallagher's fencing nets you have the best and fastest solution for your mobile sheep fencing in house. Optimal guidance and available in different colours and sizes. Do you already know the SmartFence 2.0? The ideal replacement for the standard net. All-in-one system of poles, reels, and wires. It can be assembled and dismantled within 5 minutes!
SmartFence for sheep
SmartFence is the ideal mobile or temporary fence for sheep. SmartFence is an all-in-one system of posts, reels, and wires. It's regarded as the perfect replacement of the standard net fence. It can be assembled and dismantled within five minutes. It's easy to carry and store (use the corresponding SmartFence accessories for that purpose). The SmartFence consists of four wires and 10 posts, and is 100 metres long. The barrier can be erected in any required line, as the posts can be positioned anywhere, and the wires are adjustable in height. It's also possible to connect multiple SmartFences. Combined with a Gallagher fence energiser connected to the SmartFence, your animals will remain safe.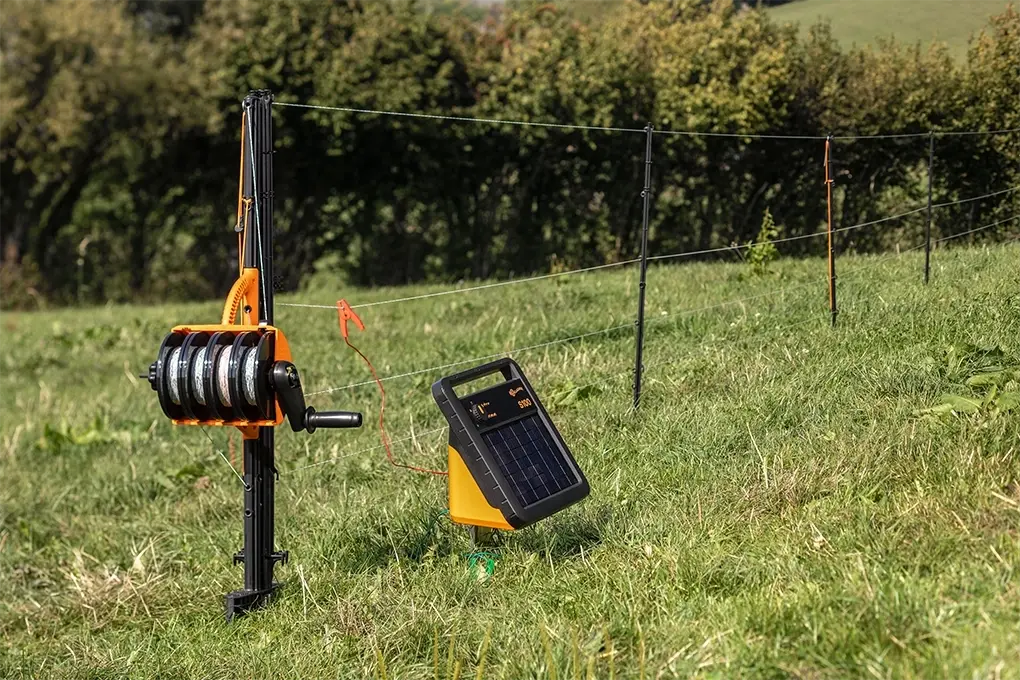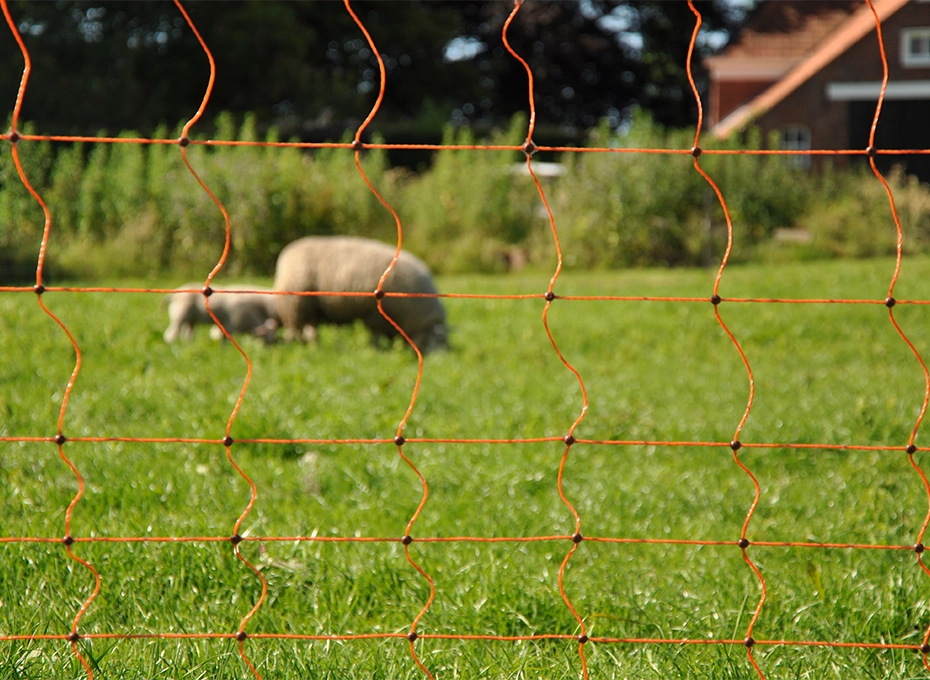 Electric Netting for sheep
Gallagher also offers the classic fencing nets for sheep. These nets are often used as mobile sheep fencing and are easy to move around. Gallagher has a wide range of sheep nets, varying in length and with both double and single fixing pins. In addition, the nets have optimal conduction of current. And they are easy to connect to each other so that even larger areas of land can be deposited with ease. It is important that you also use an energiser for your sheep fence nets, to make sure that your sheep are safe and do not break out. Alternatively, you can use artificial stakes with Vidoflex electric fencing, in combination with reels.
Order your portable sheep fencing products here:
Existing fence for sheep
Do you have a non-electric fence you want to fit with an electric wire? Whether you have a wooden or mesh fence, Gallagher has a simple, effective solution: the Gallagher distance insulators. A simple, effective method for protecting your existing barrier or fence.
Our advice:
Do you want to electrify an existing fence or enclosure? Then use Gallagher's distance insulators:
Effectively keeps sheep within an existing fence;
Protect or improve an existing fence;
Can be used in combination with tape, cord or plastic wire.
For the electrification of:
Wooden fences ;
Iron or concrete posts;
Mesh fencing;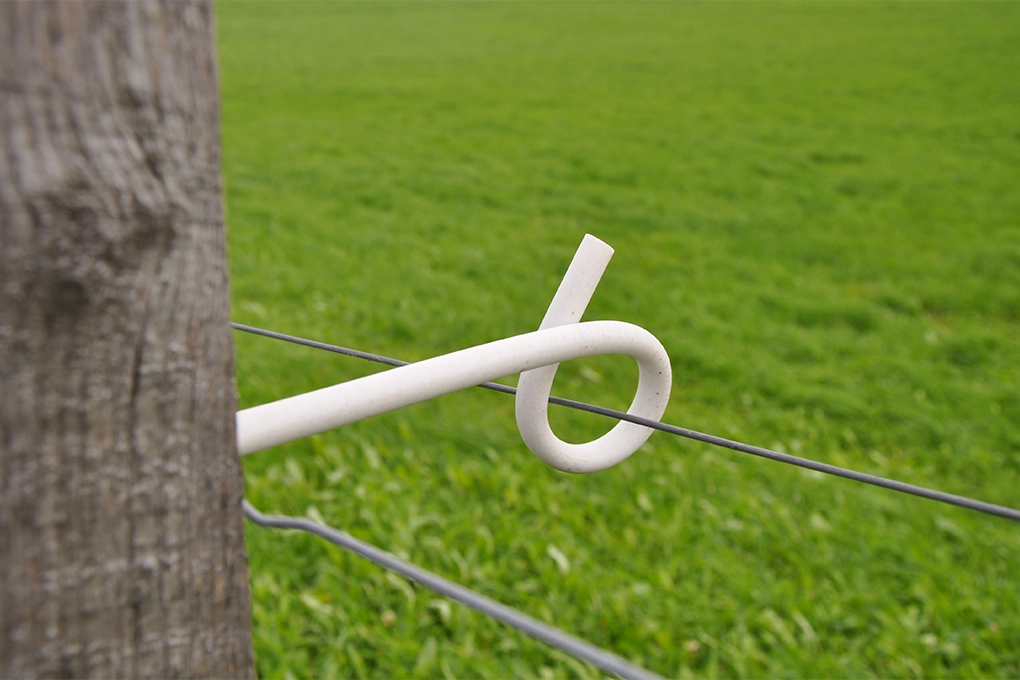 Order your distance insulators here:
Which electric fence energizer is suitable for sheep?
Especially when it comes to sheep fencing, a power energiser is important. To ensure that your s
heep fence is powered, you need a fence energiser. Gallagher has the best solutions for supplying sheep fences with power. There are various types of fence energisers, each suitable for a different situation.
When choosing an energiser, it is important to consider the length of the fence, the amount of vegetation in your meadow, whether or not 230V is available and whether the fence is single wire or multi-wire. All Gallagher energisers contain specifications on which you can base your choice of energiser. Gallagher also offers a wide range of energiser accessories and other tools for electric fencing.


How do you install an electric fence for sheep?
Correct installation of your sheep fence is essential to ensure a fence that lasts for years. When installing an electric sheep fence, there are various aspects to consider. A fence should consist of electric fence gates, fence posts, conductors and insulators suitable for your situation. You can choose to install the fence yourself, or contact one of our Gallagher specialists to find a dealer to install it for you. In addition, we offer a complete and clear overview with tips for installing sheep fencing.



How tall should a sheep fence be?
The correct height of a sheep fence is very important. Gallagher has a wide range of 90cm high sheep nets that will ensure that your sheep always stay within your fence. Get to know all the information about the number of wires and the correct height of your fence.
How far apart do you put fence posts?
The recommended distance in between electric fence posts differs per fencing. For mobile fencing with Gallagher Smartfence, the distance is 10 meters. With permanent fencing, you make use of corner posts and intermediate posts. The intermediate posts are placed at a distance of 7 to 40 meters apart. The distance depends on the material used, the type of fence and the landscape. Check intermediate posts to make sure you use the right distances


Which fence posts should I use for sheep wire?
Posts are an essential part of any electric fence. Gallagher has a wide and diverse range of fence posts. We are happy to make sure your fence is complete with the right posts. Discover all about the electric fence posts suitable for your situation.


Sheep fencing: tailored advice
Would you like advice on which solution best suits your situation? We will be happy to give you tailored advice. Take our test here to see which fence best suits your situation!
SmartFence: set up in 5 minutes
SmartFence fence combines 10 poles, reels and 4 wires in one system. With SmartFence it is possible to set up a fence with a maximum length of 100 meters in any desired shape in a short period of time. The system is easy to set up, quick to break down, easy to carry and easy to store. If you need more length, you can connect several SmartFences together. Do you want to be able to set up and move your sheep fence quickly and easily? Then choose SmartFence, the ideal all-in-one solution for mobile sheep fencing. Energisers are not included by default. As a good alternative, you can also choose our reliable sheep nets. The nets can also be used as a boundary at locks so that the lambs cannot fall into them.


Fencing for other animals
It is essential to select a fence that fits the behaviour of your animal. Just as Gallagher can advise you on the right fence for your sheep, we are also happy to advise you on the right fence for your horses, cows, pigs or other animals.