3 tips: This is how you keep your fencing in order during long dry spells
Prevent cattle and horses from escaping during persistent dry spells
Large parts of Europe have had long dry spells for quite a number of months already. A stable area of high pressure is keeping temperatures high and there is little or no precipitation. In many countries, crops require irrigation and the chance of fires increases day by day.
Cattle farmers and horse farmers are also struggling in this drought. Grass grows much more slowly and the animals are escaping from their paddocks. In this blog we explain why escapes are more common during dry periods. We also give some tips on how best to maintain your fencing during extreme dry periods to ensure you continue to have maximum benefit.
Heat means there is virtually no grass growth in pasture
Grass grows best when the soil temperature remains below 20 degrees Celsius; when it rises above 25 degrees, grass actually stops growing altogether. This high temperature combined with a lack of rainfall ensures that grass is barely growing right now. This is harmful to the grass, but can also cause animals to obtain insufficient nutrients whilst they are out to grass. During these periods you need to watch your animals to make sure they get enough nutrients and give them supplementary feed if necessary, even if they are put to pasture day and night.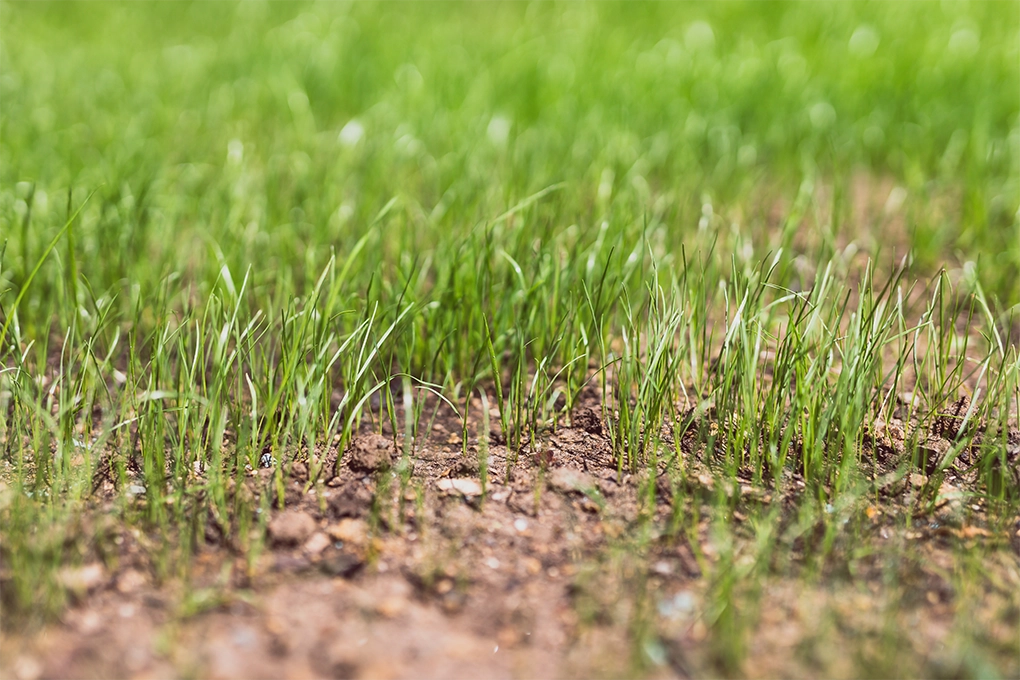 3 tips for using your pasture properly despite the drought:
1. Divide your pasture into several smaller plots
If you don't have this option, you can use smaller temporary plots. You can alternate the use of those plots to rest the other plots and give them a chance to grow a little. You can choose to create various plots, where you can alternate the animals. You rotate between the various pastures as it were.
Another option is to take one plot as your main plot, where your animals remain permanently. During the day, you may choose to have your animals graze a limited number of hours on one of the other plots. This means that your main plot will suffer and the quality of the grass will deteriorate quickly, but it does save the grass on the other plots.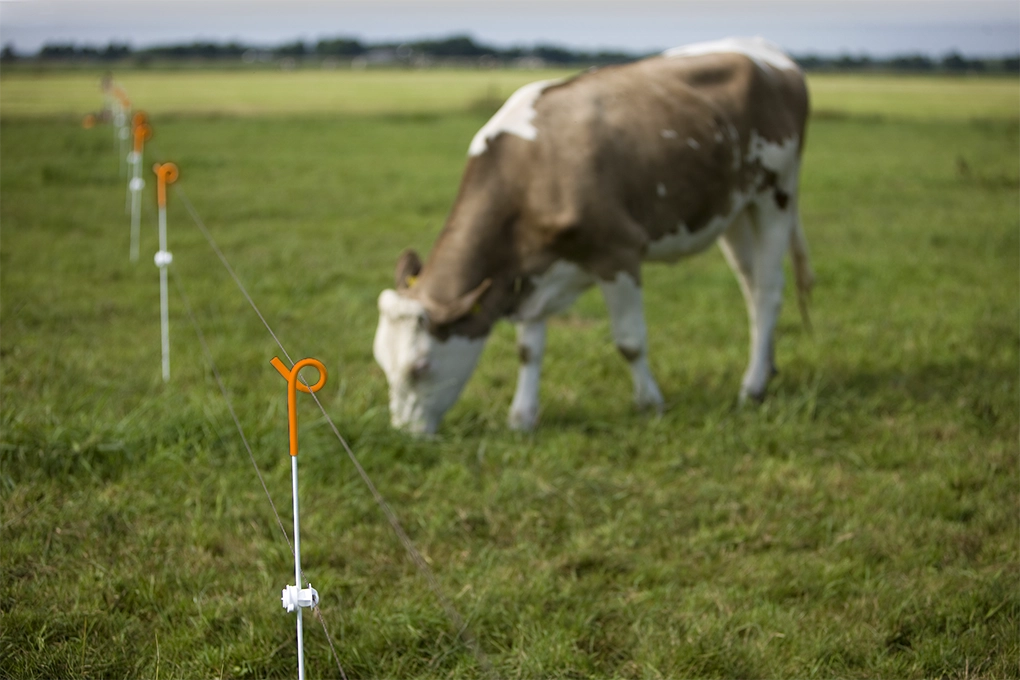 Use portable fencing to divide your pasture temporarily
If you want to divide your pasture into several plots, you can use portable fencing. This generally consists of easy to move posts used in combination with wire and an energizer. When you divide your plots, try to make them of the same size where possible in order to track how much grass your animals are able to consume. If needs be, draw the division on paper, so you know where to put the corner posts.
You can choose to connect the wire of your temporary fence to the energizer you use normally. Alternatively, you can use a portable energizer. A Solar energizer works on solar power and is extremely suitable, especially if you don't have a good power supply nearby! A solar energizer is easy to carry and charges itself, so you don't have to carry extra batteries around. REMEMBER: only ever use one energizer on fencing and no more. If you connect two energizers to the same wire, they create a short circuit and both energizers are likely to break down! It is also against the law to connect more than one energizer.
2. Reduce the number of hours spent grazing
Fewer hours a day spent grazing is one way of giving the grass enough rest to grow again. Put your cows, horses or sheep outside for half a day and the rest of the time in a paddock or properly ventilated stables where you can give them supplementary feed. You can even choose to put your animals to pasture at night and to leave them indoors during the day, which makes life easier for your animals by the added benefit of fewer insects.
3. Check your fencing to prevent escapes
Earthing is one of the most important components of proper electric fencing. The earthing ensures that when the wire is touched, the current is taken back via the soil to the energizer. It closes the loop as it were.
When the weather is dry, the soil is much less damp and causes the earthing to work less well. As there is less grass in the pasture during these periods, grazers are much more likely to check the neighbours to see if the grass is greener on the other side. Fencing that works properly is particularly important in these dry times.
Check the earthing of your fencing
Check first that your fencing is looking good and that all the conductors are still properly attached. How to do this step by step is shown in the video on the Gallagher check.Then check your earthing, which is important as we explained above. You check your earthing by creating a short circuit until there is just 1.000 Volt on the fence. Then you measure the voltage directly on the earthing system, and if its more than 300 Volt, your earthing is not working properly and you need to take action. For a comprehensive explanation of the test, take a look at the pagecheck the earthing of your electric fencing.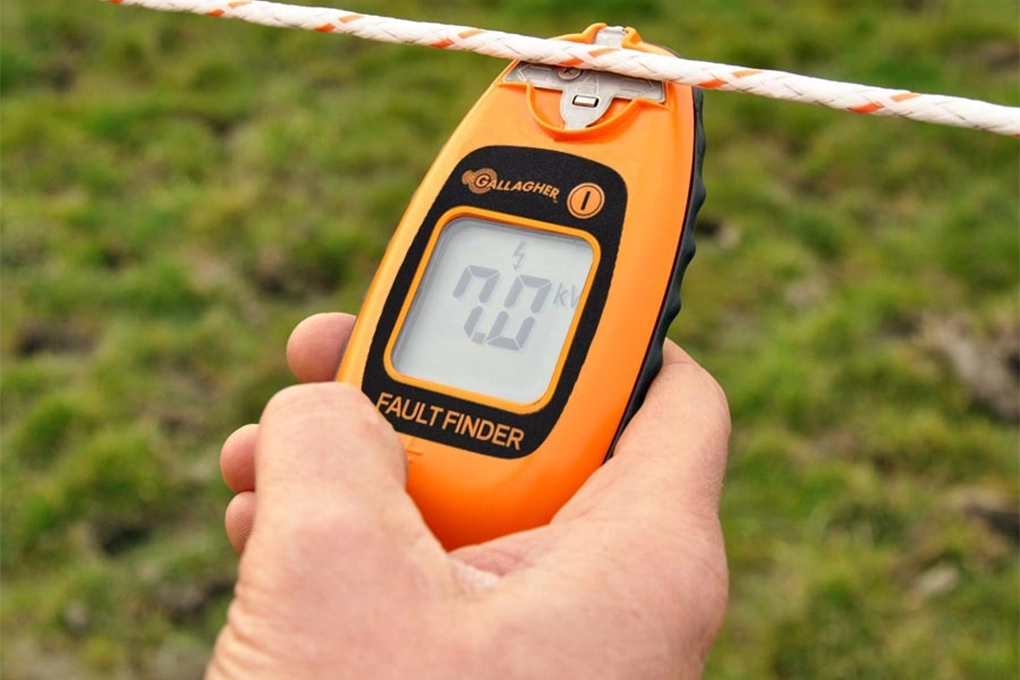 How can I improve the earthing of my electric fencing?

If your earthing doesn't work properly, there are several things you can do.
1. Add earth rods to your earthing system until your earthing does have the correct voltage.

2. Use Bentonite earthing mix: Use this in combination with your earth rods. Add the bentonite to the soil where your earth rods are positioned. The mixture produces better conductivity and consequently improved earthing. To use the bentonite, you will need to remove your existing earth rods from the soil first in order to add the mix and then put them back again.
Do you need advice for your issues with the earthing of your fencing?
If you still have a problem you cannot work out after your check, please contact our Customer Services. Our Gallagher experts will try to solve your problem there and then, but if more help is required, a Gallagher specialist can visit you at home for extra support or advice.