Fencing for dogs
Do you need to keep your own dog in and other dogs out of your garden or flowerbed? A pet electric fence is an ideal solution - safe, economical and easy to use. A pet electric fence is effective and very safe. A short, gentle pulse is used which prompts a fright response but does not harm the animal. The dog quickly develops a respect for the fence and learns to avoid it.
What is dog fencing?
Unfortunately, many people suffer from unwanted visits from dogs in their gardens. These dogs often cause a nuisance. It is then difficult to keep these dogs out of your garden. A fence or hedge usually does not offer enough protection. In addition, people like to keep their pets within the boundaries of their garden and make sure their dog does not just run away. The solution? A dog fence. Dog fencing is used to keep your own dog in your garden or to keep dogs that are not yours out of your garden. Gallagher offers various solutions to keep dogs out and save you the trouble they cause.
How does an electric dog fence work?
An electric dog fence consists of several components, which are electrified. The electric fence kits create a very short pulse voltage. This causes a startle reaction, but it is absolutely not dangerous for the dog. The dog often only needs to come into contact with the electronic dog fence once, and will then keep its distance.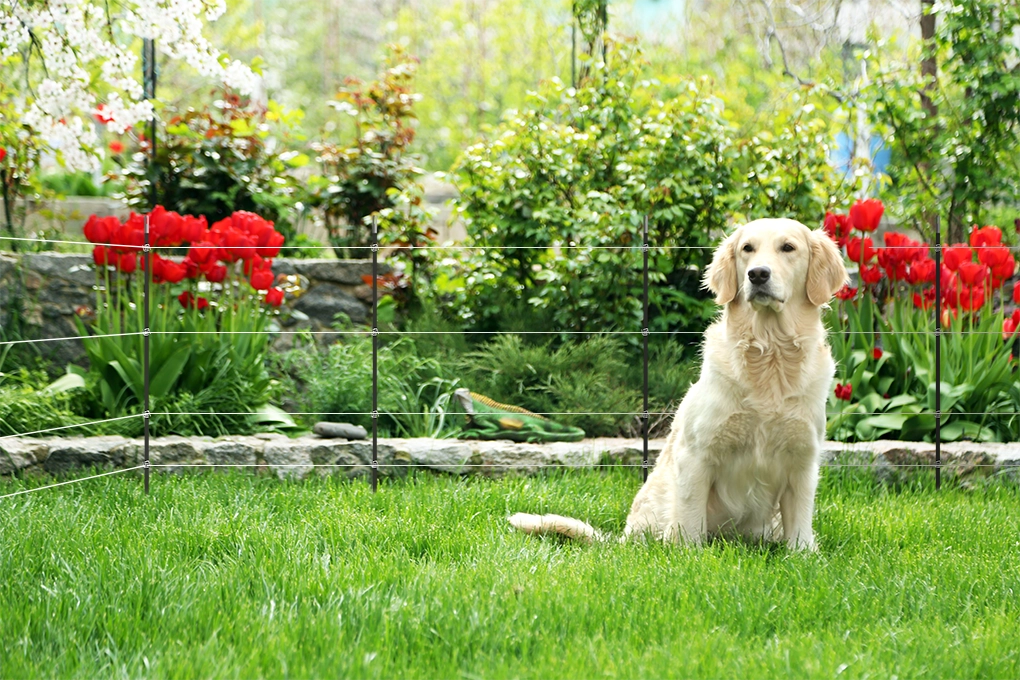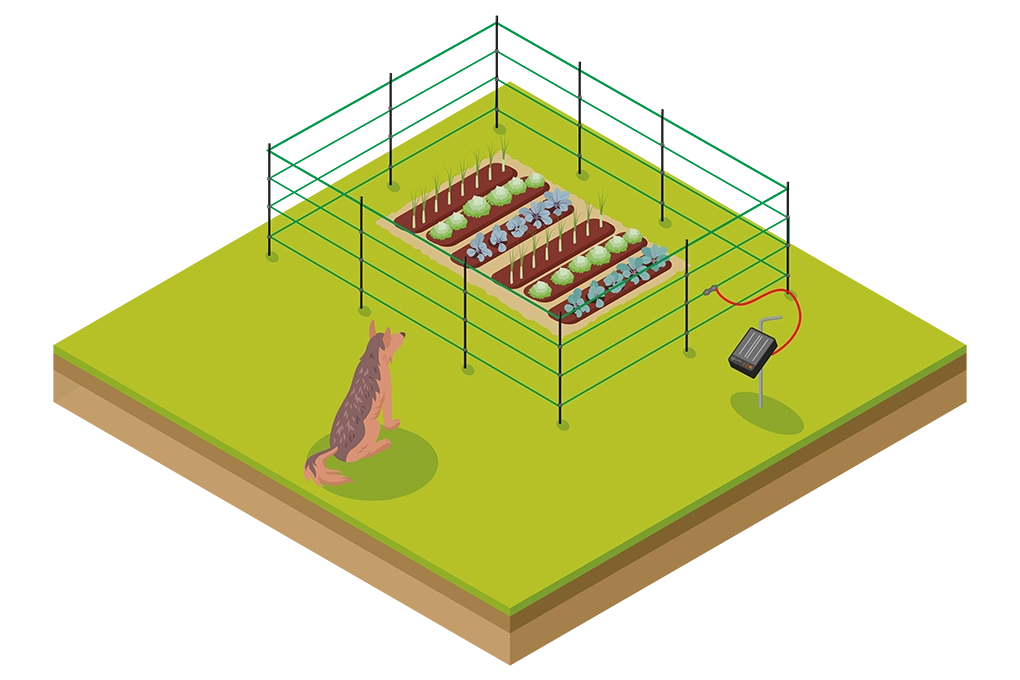 Wire heights for dog fencing
Once you want to install fence wire for your dog, it is important to check which height is suitable for your electric dog fence. This height depends on the type of dog. A fence for large dogs requires a different height than one for smaller dogs. Gallagher has different kits for electric fencing. We advise you to buy the electric fence kit that is made for the height of your type of dog. Below you can see what height the electric fence is required for your type of dog.
Equipment for dog fencing
A dog fence consists of several components. Gallagher likes to make it easy for you to figure out the solution for your situation, and therefore offers different types of kits for electric fencing. This way, you can be sure you have everything you need for your electronic dog fence. Besides the fence wire for the fence, you also need a fence device. For large dog breeds and gardens with a large surface area, we recommend the M35 energiser. This is also available as a total dog fence kit. This kit contains everything you need for a properly functioning dog fence and is available in 50 cm and 80 cm.
Benefits of dog fencing
An electric fence for dogs has many advantages. It is difficult to keep dogs out of the garden, and very annoying to have to constantly check whether your dog stays within the boundaries of your garden. Assembling a dog fence yourself is complicated and often proves ineffective in practice. This is where a dog fence kit offers the solution. Installing the fence kit is easy. Your animal can play freely without running away and you will enjoy a dog fence for a long time.
Tips for erecting the fence
Setting up a fence is very easy. One tip when setting up the fence is to pay attention to the vegetation in your garden. This is because vegetation reduces the effect of the fence. For optimal results, the fence must be free of vegetation.